Buy ThinkPad USB 3.0 Pro Dock -(UK AC Power Adapter)  Lenovo Part Number – 40A70045UK
Overview and Service Parts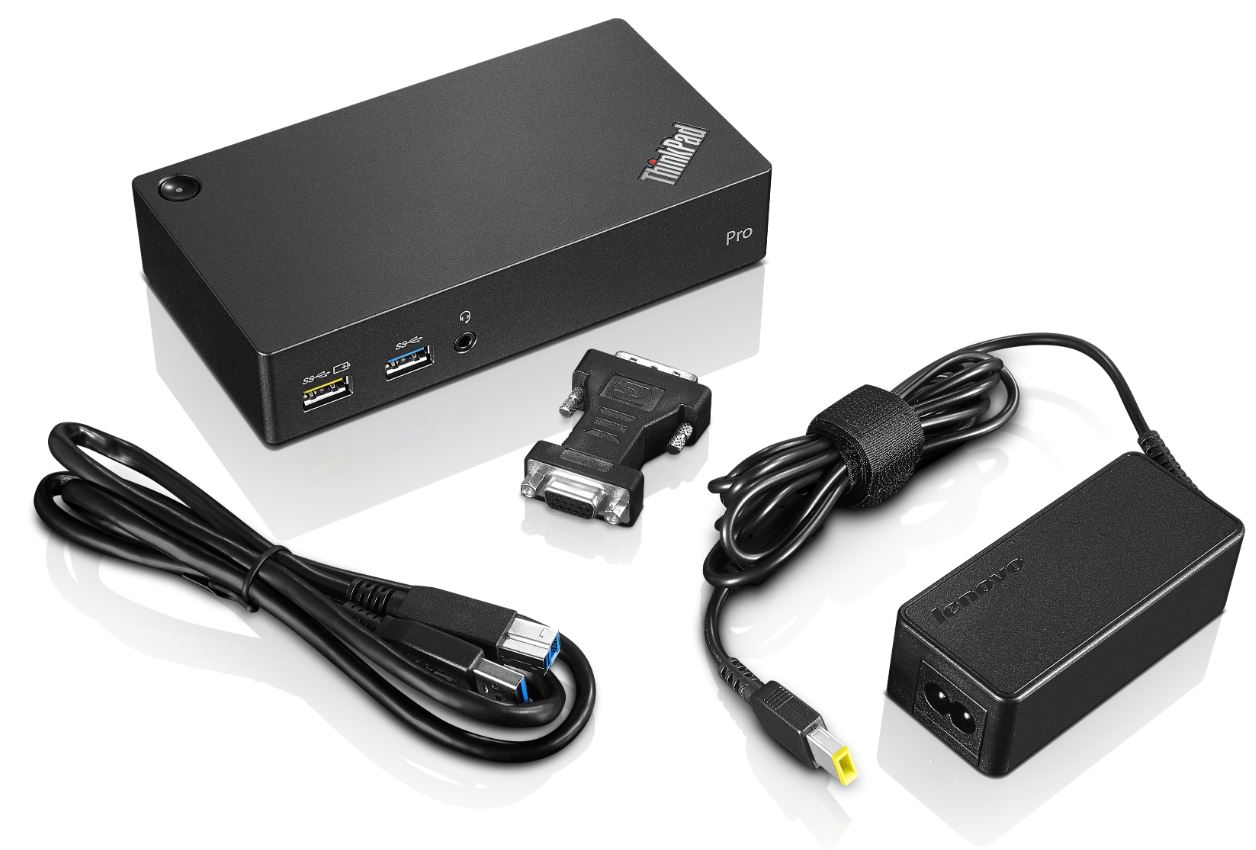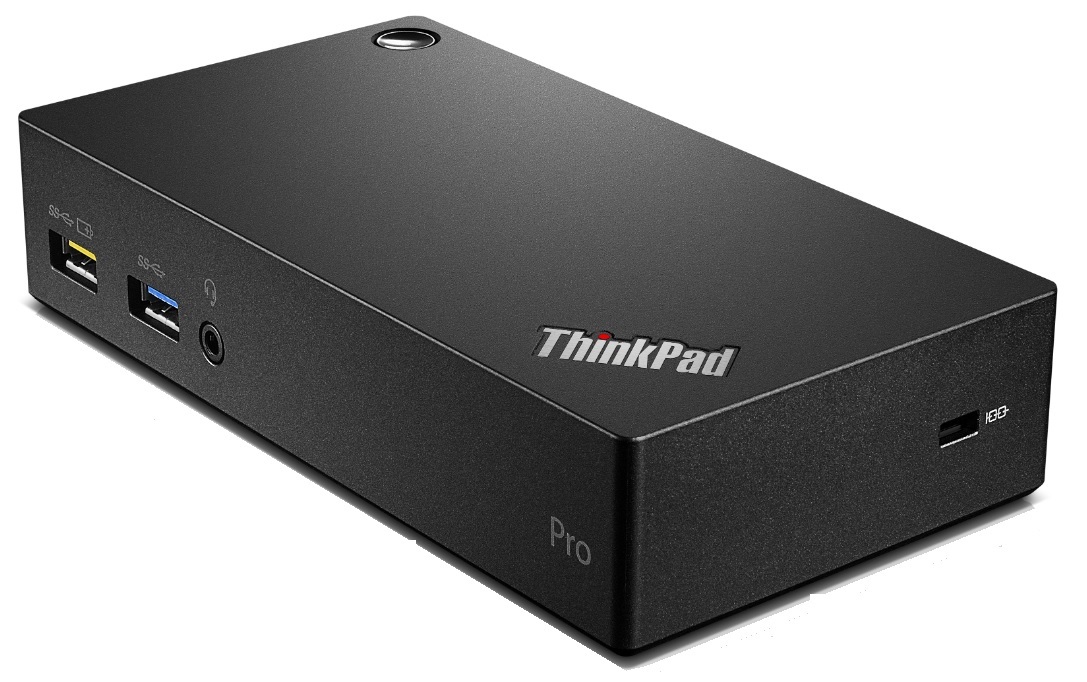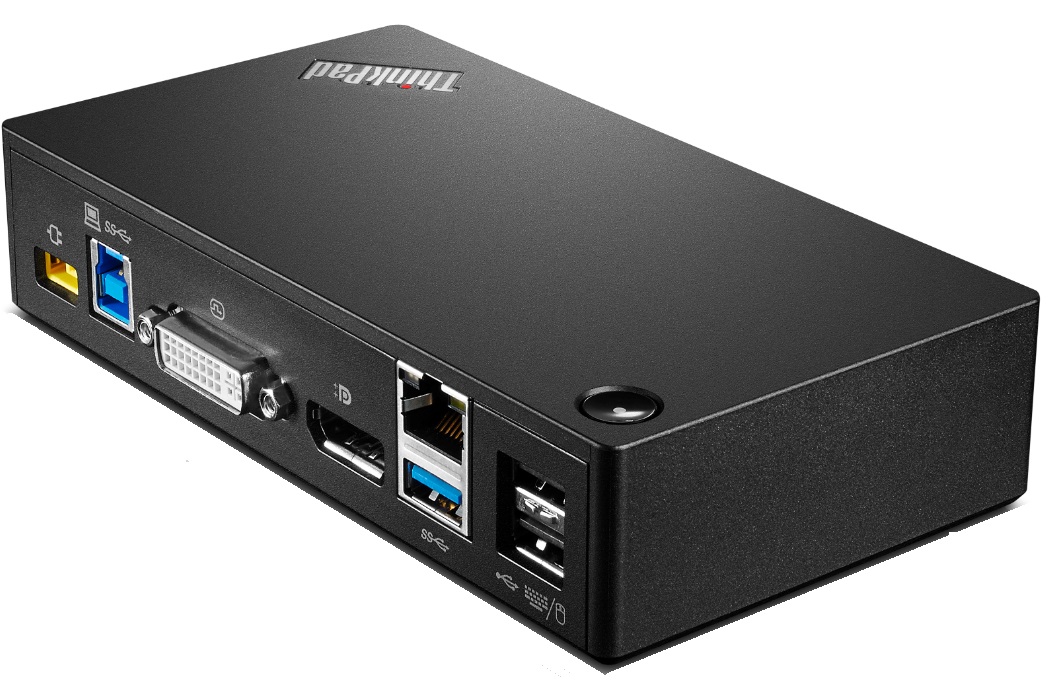 Features and Specifications
The ThinkPad USB 3.0 Pro Dock (40A7) delivers a professional universal USB docking solution with fast USB 3.0 ports and digital video ports for quick and easy connection to all the workspace peripherals you use every day. Simply plug in a single USB 3.0 cable into your Lenovo PC for instant access to up to two external monitors, Gigabit Ethernet, headphones/speakers, USB printers, scanners, keyboard, mouse and so on for daily use. The Dock can also charge your mobile device via USB always power on port.
Also, compatible with Lenovo Docking Station Mounting Kit (4XF0S99497)
Connectivity
Three USB 3.0 – 1 provides always-on mobile device charging
Two USB 2.0
One USB 3.0 upstream connector
DVI
DisplayPort
Gigabit Ethernet port
Combination audio Port
Security lock slot
Other Features
Power button to turn unit on and off
Resolution / Refresh Rates
| | | |
| --- | --- | --- |
| Number of connected Video Ports | DisplayPort (maximum) | DVI/VGA (maximum) |
| Single | 2560 x1600 / 60Hz | Not Connected |
| Single | Not Connected | 2048 x1152 / 60Hz |
| Dual Display | 2048 x1152 / 60Hz | 2048 x1152 / 60Hz |
Drivers and Downloads
Notes:
Lenovo recommends to uninstall the previous driver manually for ThinkPad USB3.0 docks and Lenovo USB3.0 adapters drivers before installing the new driver package.
Operating System Requirement
Windows 10 (64-bit)
Windows 11 (64-bit)
Shipment Group
ThinkPad USB 3.0 Pro Dock
Power Cord
USB 3.0 Cable
DVI to VGA Adapter
Warranty Poster
Warranty
Hardware Requirements
Compatible with ThinkPad notebook systems that have USB 3.0.
For the latest updates on the compatible systems, refer to one of the following:
Docks Finder – Find a compatible docking station for your Lenovo laptop
Also, compatible with Lenovo Docking Station Mounting Kit (4XF0S99497)
Physical Specifications
Unpackaged:

Approximate height: 32 mm (1.25 in)
Approximate width: 150 mm (5.90 in)
Approximate depth: 80 mm (3.14 in)
Approximate weight: 236 g (0.52 lb)

Package in the carton:

Approximate height: 64 mm (2.51 in)
Approximate width: 214 mm (8.4 in)
Approximate depth: 182 mm (7.16 in)
Approximate weight: 777 g (1.171 lb)
Operating Enviroment
Temperature: – 5 degrees C (23 degrees F) to + 40 degrees C (104 degrees F)
Relative humidity: 20% to 95%